Back when I first started exploring supplements, I had so many questions.
How do I know what supplements are good?
When do I take this?
Should I take that with food?
Which ones should I take together?
Which should I avoid taking together?
And on and on…
I figured that if I had these questions, there had to be others who were also confused. This is why from early on in my days of wanting to be a formulator, I always knew that part of my mission would be to make the process of taking supplements, vitamins and minerals as simple as I could.
While it's best to get the majority of our vitamins and minerals from eating a well-balanced whole food diet, supplements can provide us the extra that we are not able to get from our diets due to pesticides, EMFs, PFAS, changes in our soils, the transit of our food from one place to another, etc. Supplements literally supplement our diet.
It's important to note though that because of bioindividuality, not everyone needs the same vitamins and minerals. Once you figure out which ones are right for you, determining how, when and how much you need to take them is the next step.
Vitamins and Minerals to Consider
Here's a list of recommended vitamins and minerals to consider taking. REMEMBER, not everyone needs to supplement with all of these. Each person will need different supplements based on their diet and other environmental factors that affect their life, health and body.1
Vitamin A
Helps fight infection
Maintains healthy vision
Plays a key role in heart, lung and kidney health
Keeps skin healthy by fighting off toxins
Strengthens bones and teeth
Helps reproduction
Vitamin D
Immune system support
Helps strengthen/form bones and teeth
Regulates mood
Vitamin E
Acts as an antioxidant
Protects cells from toxins
Maintains muscle function
Vitamin K
Helps in wound healing and essential for blood clotting
Creates strong bones
Helps protect against heart disease
Vitamins A, D, E and K should be taken with some form of fat such as avocado or nuts for optimal absorption.
B Vitamins
Note: There are eight different B vitamins: B1, B2, B3, B5, B6, B7, B9, B122
Converts food into energy
Critical for nerve function
Supports healthy hair, skin, blood and brain
Essential for healthy nervous system
Makes red blood cells
Improves sleep, appetite and mood
Helps break down glucose
New cell creation and DNA synthesis
Breaks down amino and fatty acids
Vitamin C
May reduce risk of getting the common cold
Maintains skin and tissue health
Strengthens bones and teeth
Vitamins B and C are considered water-soluble vitamins. Water dissolves them, and your body doesn't store them, so most must be taken daily. You can take these vitamins with or without food but keep in mind that for vitamin B12, you will absorb that one better with a meal. If you also use vitamin C, put 2 hours between them. Vitamin C can keep your body from using B12.3
Calcium
Improves muscle function
Helps to achieve healthy blood pressure
Aids in hormone secretion
Helps maintain strong bones and teeth
Decreases risk of osteoporosis
Iron
Improves immune function
Provides energy
Improves brain function
Improves ability to concentrate
Carries oxygen in blood
Iron is absorbed best on an empty stomach but it has been known to make some people nauseous so if that happens for you, then take it just after you've eaten. Iron and vitamin C work well together so you can consider taking them at the same time. You should avoid taking it with magnesium, a multivitamin, calcium, milk or caffeine.4
Zinc
Reduces risk of cancer
Boosts immune system function
Improves memory
Reduces common cold symptoms
It is most effective taken 1 hour before or 2 hours after meals. As with iron, sometimes it can cause an upset stomach so if that's the case then it can be taken with a meal.5
Mineral Supplements
If you're taking large doses of minerals, these can compete with each other to be absorbed. Avoid using calcium, zinc, or magnesium supplements at the same time. Also, these three minerals are easier on your stomach when you take them with food, so having them at different meals can also help.3
If you're taking magnesium, it's also best not to take with bisphosphonates, antibiotics, diuretics, acid reflux drugs and peptic ulcer drugs.
Conclusion
Always speak with your healthcare practitioner before starting a new supplement, especially if you take medications. Supplements are not regulated by the U.S. Food & Drug Administration (FDA) or USDA so it's important to use only high-quality supplements and research brands that are science-backed (like Life Extension, Now Foods or Thorne). See 9 Tips to Help You Choose a Quality Supplement here. Another tip is to make sure you are getting the most available forms of vitamins. Save the cheat sheet below for a quick guide.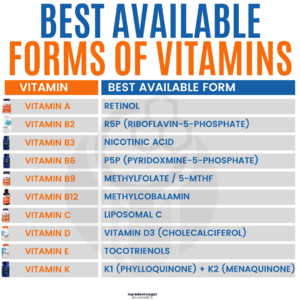 Found this article interesting?
For more tips and the latest and greatest in health optimization, follow me on Instagram.
Sources:
1. schneik4. "9 Vitamins and Minerals You Should Take Daily." – Cleveland Clinic, Cleveland Clinic, 29 June 2022, https://health.clevelandclinic.org/which-vitamins-should-you-take/amp/.
2. "B Vitamins." The Nutrition Source, 11 Aug. 2020, https://www.hsph.harvard.edu/nutritionsource/vitamins/vitamin-b/.
3. "Best Ways to Take Different Vitamins." WebMD, WebMD, https://www.webmd.com/vitamins-and-supplements/ss/slideshow-best-ways-to-take-different-vitamins.
4. "Iron Supplement (Oral Route, Parenteral Route) Proper Use." Mayo Clinic, Mayo Foundation for Medical Education and Research, 1 Sept. 2022, https://www.mayoclinic.org/drugs-supplements/iron-supplement-oral-route-parenteral-route/proper-use/drg-20070148#:~:text=Iron%20is%20best%20absorbed%20when,food%20or%20immediately%20after%20meals.
5. "Zinc Supplement (Oral Route, Parenteral Route) Proper Use." Mayo Clinic, Mayo Foundation for Medical Education and Research, 1 July 2022, http://www.mayoclinic.org/drugs-supplements/zinc-supplement-oral-route-parenteral-route/proper-use/drg-20070269#:~:text=Zinc%20supplements%20are%20most%20effective,your%20zinc%20supplement%20with%20meals.